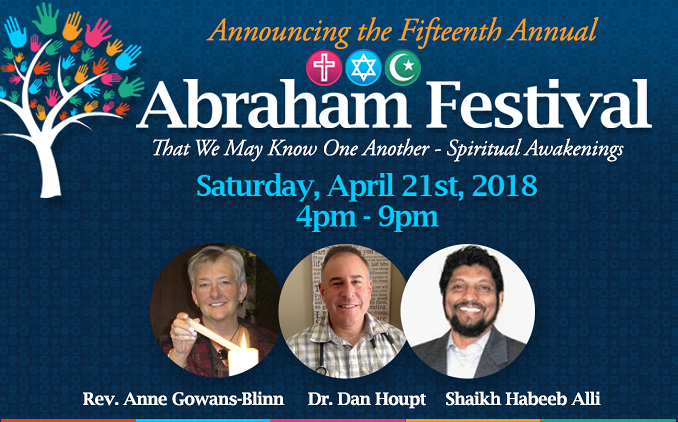 Join Us for the 15th Annual Abraham Festival
Saturday, April 21st, 2018 – 4 pm, at The Mount Community Centre
Everyone Welcome – Admission by Donation (Suggested $10)
Festival Schedule
4:00pm Interfaith Celebration – Enjoy Music from
the Three Faiths. Featuring the music of Anwar Khurshid & Demetrios Petsalakis
5:00pm Vegetarian Potluck – You are invited to
bring finger foods. Vegetarian
sandwiches/wraps, veggie tray, cheese & crackers, cake, cookies etc.
7:00pm That We May Know One Another:
Spiritual Awakenings; An evening of Spiritual Reflection with:
Rev. Anne Gowans-Blinn – Dr. Dan Houp – Shaikh Habeeb Alli
Our panelists will share their own "Spiritual Awakenings" followed by a discussion and Q&A time. Also, everyone will have an opportunity to reflect and share their own spiritual journey.
Contact us: info@abrahamfestival.org
• (705) 748-3680 •
www.abrahamfestival.org
"MARK YOUR CALENDARS"
… don't miss out on the friendship and the learning.
We all know how incredible the Abraham Festival is!
Many in our congregation have participated since the beginning;
and now 15 years; such a milestone. 
"That We May Know One Another – Spiritual Awakening" sounds like a wonderful theme. Thank you everyone for giving Peterborough this important annual event!"