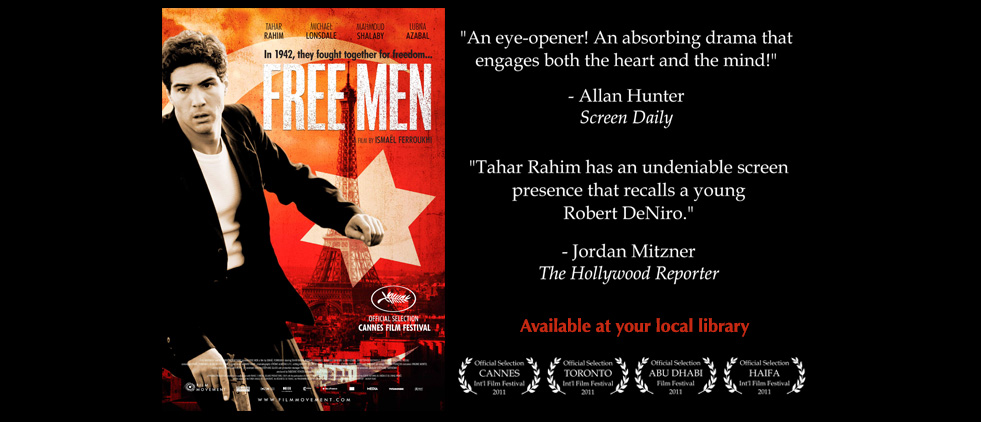 Free Men
A 2011 French film written and directed by Ismaël Ferroukhi, which recounts the largely untold story of the role that Algerian and other North African Muslims in Paris played in the French resistance and as rescuers of Jews during the German occupation – 1940–1944.
Rotten Tomatos
In German-occupied Paris, a young unemployed Algerian named Younes (played by break-out star, Tahar Rahim) earns his living as a black marketeer. Arrested by the French police but given a chance to avoid jail, Younes agrees to spy on the Paris Mosque. The police suspect the Mosque authorities, including its rector Ben Ghabrit, of aiding Muslim Resistance agents and helping North African Jews by giving them false certificates. At the Mosque, Younes meets the Algerian singer Salim Halali, and is moved by Salim's beautiful voice and strong personality. When Younes discovers that Salim is Jewish, he stops collaborating with the police and gradually transforms from a politically ignorant immigrant into a fully-fledged freedom fighter. — (C) Film Movement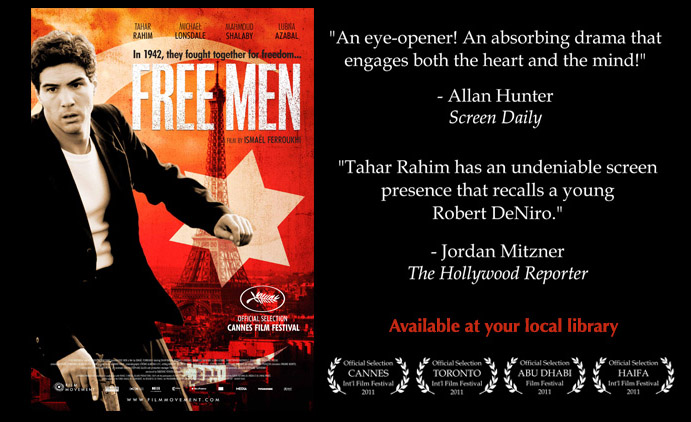 Free Men offers a pleasing historical escape via a story of everyone setting aside religious, colonial, and ethnic divides to unite against the Nazis.
Alison Willmore
AV Club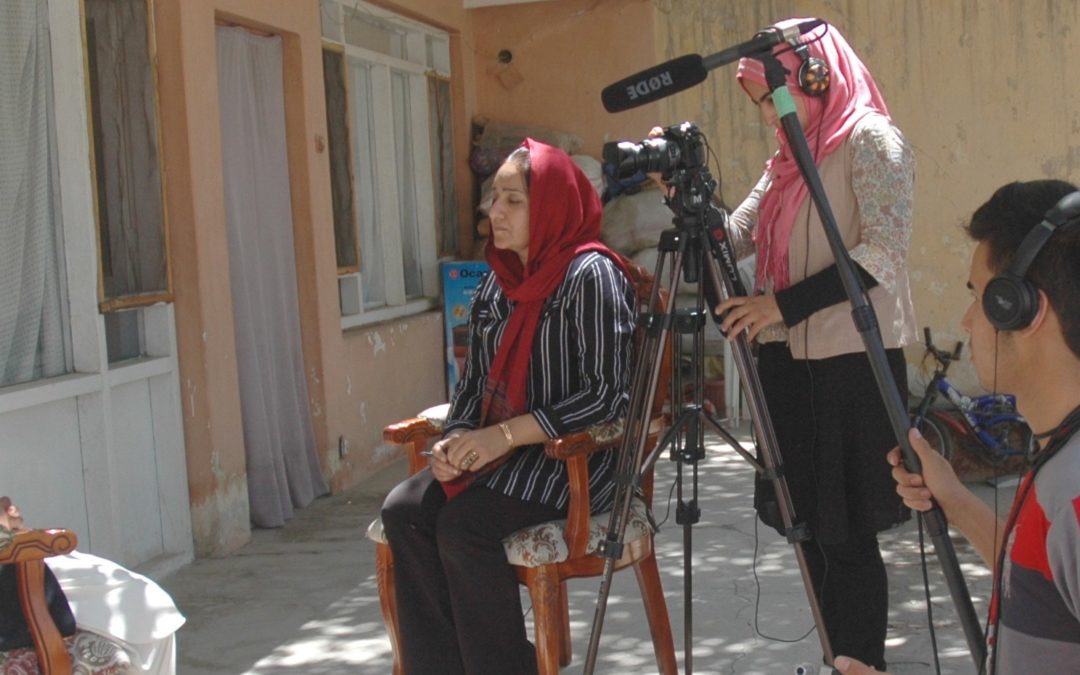 The Abraham Festival tries to fulfill its mandate to reach out to all in the community, in many ways, that we "may get to know each other". One of the most effective is through film. For some time we have been showing films, on an occasional basis, touching on the issues relevant to our mission. The films take place at Beth Israel synagogue on Weller St. The next film will be presented on Tuesday September 26th at 7 p.m. We are happy to be able to co-sponsor this film, Mightier than the Sword with a like-minded local organization, Canadian Women for Women in Afghanistan. We will be cooperating on everything from hosting to sharing delicious refreshments together, and we invite you to join us for a fun and informative evening!
Abraham Festival and CW4WAfghan present:
Mightier than the Sword
A 45 minute documentary in which filmmaker Roberta Staley explores how young female journalists in Afghanistan are fighting for the right of Afghan women to live and work without abuse and harassment. Mightier than the Sword also shows the West that, despite widespread criticism over military involvement in Afghanistan since 9/11 and deep regret over lives lost, the collective sacrifice has resulted in positive change. The steps towards a more equitable society that is embracing liberal democratic values may be small, but they are steps in the right direction.
TUESDAY, SEPTEMBER 26, 2017
Doors open at 6:30 p.m. Film showing at 7 p.m.
BETH ISRAEL SYNAGOGUE
775 WELLER STREET
No charge for admission but donations appreciated.
Join us to learn more about present day Afghanistan. There will be time to ask questions and to enjoy refreshments following the film.
Needlework from Afghanistan will be on sale and the newest edition of Deborah Ellis' book "The Breadwinner" with illustrations from the animated film which is soon to be released.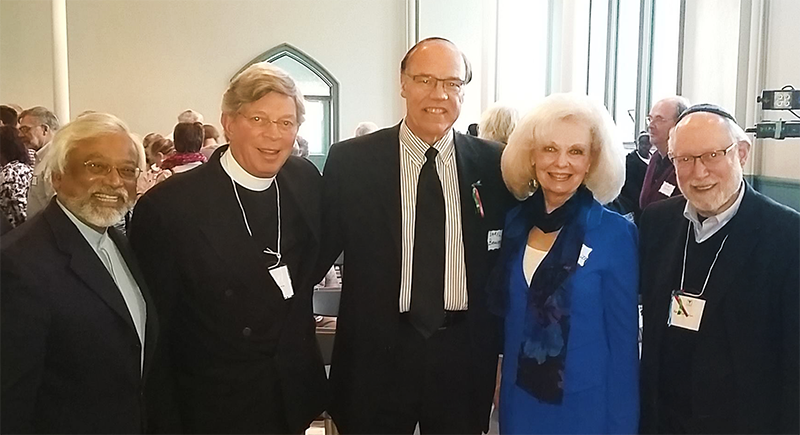 The Abraham Festival 2017
The AF actually started long before the date of the actual Festival. There was a lot of planning and meeting and organizing, sharing, laughing and listening.
Each meeting started off with a moment of reflection and prayer shared by each of the faiths represented, Muslim, Jewish and Christian. Each person had a voice and took various roles to pull together the many aspects of this year's festival. We each volunteered our talents to creating a meaningful event, from sketching set up, to selling tickets, picking up and delivering equipment, timing and decorating.
It started with imagination, "wouldn't it be nice if…" and in this case it was to have the Three Interfaith Amigos come to Peterborough to be the main even, the focus speakers pulling together everything the AF stands for.
And it meant doing the festival differently from years past. This year the entire festival would be on one day. In the past Friday was scheduled with Juma prayers at Sir Sandford College, followed by the Friday night Sabat prayers at the synagogue and then a Sunday service at a Christian church. This year the entire festival would be held on Sunday afternoon and evening.
For the planning committee, the culmination of planning and visioning work began on Friday night. Everyone had a timetable and role to set up the kitchen, the main hall, the chairs, the sound system, the pick up and delivery of our main speakers, and by 6 pm Friday night everything was ready. The empty halls were set up and decorated with artistic flair to receive the food for the potluck supper, and to host the interfaith celebration which included not only input from our 3 faiths but included drumming from our First Nations Elder to open the festival.
Sunday afternoon the committee and extra volunteers were ready to host the community of Peterborough and surrounding areas to come together to celebrate and feast together sharing food, ideas and hope as community.
From my perspective, working in the kitchen, setting out the food so generously provided by the very people who would come and eat, ushering and serving people as they arrived, to getting the kitchen ready for the clean up, and cleaning up the space, there was an energy of giving and receiving, an energy of anticipation to hear our 3 main speakers, an energy of connection, sharing and openness.
As chairs filled the auditorium, anxieties were soothed knowing there would be ample room and a good crowd for the events. The opening celebration included song, prayers, thoughts from representatives of the 3 faiths and ended with a rousing chorus of Leonard Cohen's Halleluiah! People were humming it as they came in to take part in what turned out to be a feast of healthy and delicious food!
After the meal, the Three Interfaith Amigos were introduced. The organizing and willingness of committee members families to make the trip from Toronto and get our guests to the Mount Community Centre on time was another example of willingness and planning. I was able to sit for intervals between washing dishes and packing up food to experience the message of these dynamic and down to earth me..
I was so moved to be able to hear Rabbi Don. Before he spoke, he walked over to our First Nations Elder Dorothy and asked for her blessing to share his teachings on her territory! Mutual respect. I get goose bumps remembering it.
Time was planned for questions at the end of the festival and this was well received and stimulated wonderful discussion.
For more photos from the Festival, please go to our Gallery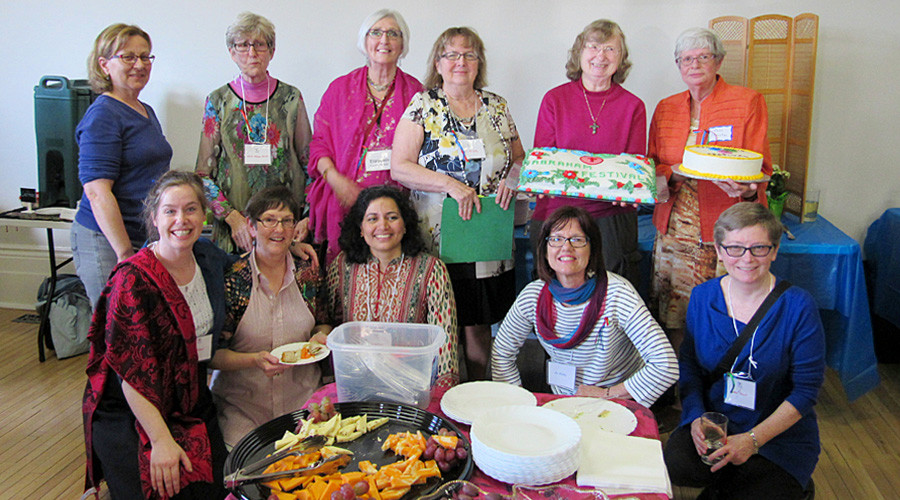 Download Brochures and Posters